Preproducing, calling to contacts, translating, bookings, driving, preventing risks are just some of the tasks that fixers, usually active journalists, do for other journalists in Mexico and the world.
Theirs is an invisible work, unknown, but that plays a substantial role in the production of a journalistic or cinematographic work. Despite that importance, they don't see their names in the byline, are at risk and do not always receive fair payment.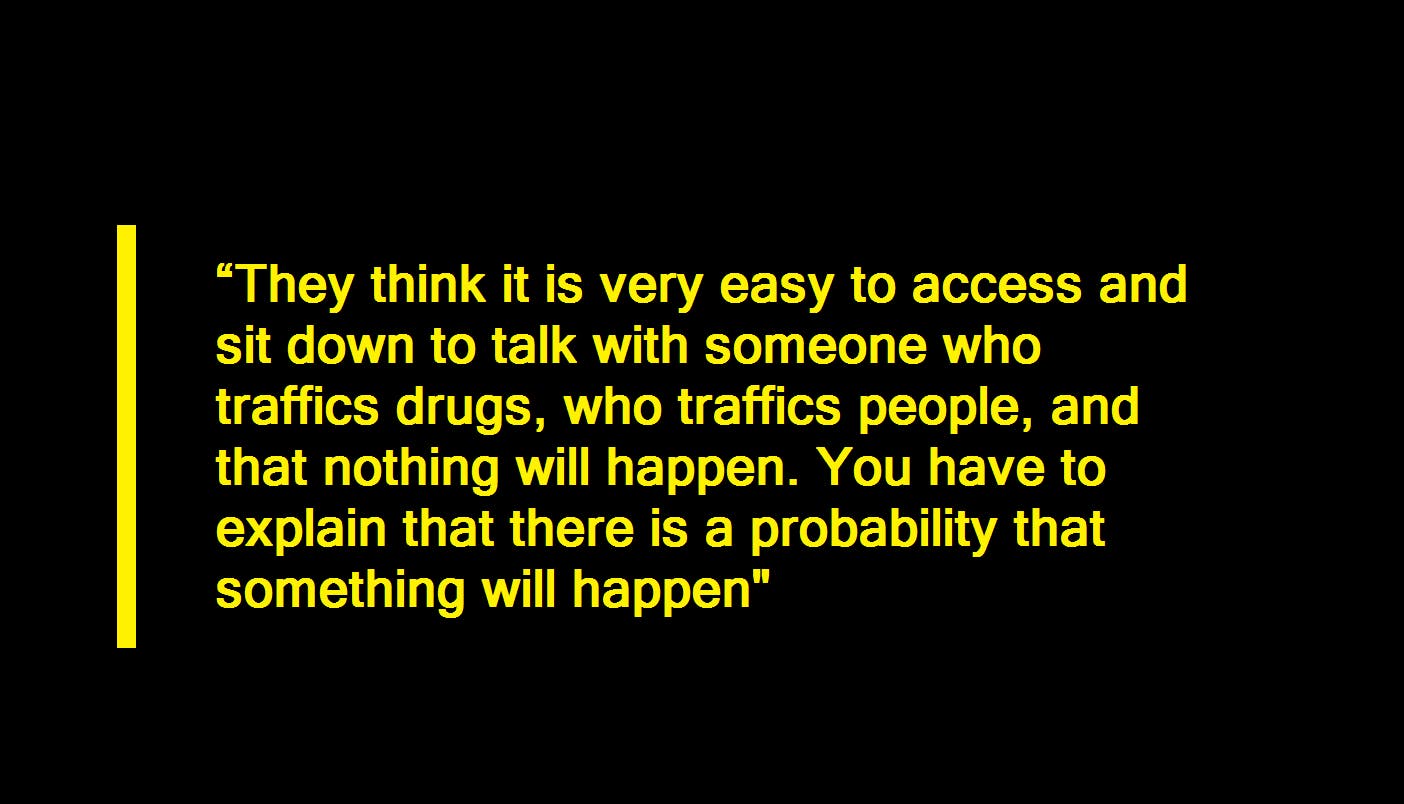 The risk level depends on the area. Our fees are determined by many other factors, says Jorge Nieto, a journalist and fixer in Tijuana, Baja California. There is no tabulator, he says.
"Personally, I handle it according to the vibes that each project gives me, each person I work with. Obviously, (I take into account) if it comes from a company, if it is an independent journalist, if it is someone who is doing a project with its own resources and is someone who won a scholarship or a financing to develop a research project.
"(It also influences) if it is from a large network, in addition to the levels of risk, hours that one will devote to pre-production, to production in the field; if you have to travel, etc. There are many factors that he considered to issue a tariff," says the expert.
He started to work as a journalist back in 2003, and it was in 2009 when he began to provide his "facilitation" or fixer services, as foreigners usually call him, who are the main clients in the country.
It is usual to see fixers in the movies, in those scenes when a journalist or investigator arrives in a city at war, such as Syria or Iraq, and a person is waiting for him aboard a car that will take him to conduct interviews, take images of war and do field research in dangerous areas.
What the Mexican public does not imagine is that in this country this work is quite common, mainly at the southern and northern borders.
Nieto is contacted by journalists, documentary makers, photographers, videographers and writers who want to know the northern border, that of Mexico-United States, that of Tijuana-San Diego. The topics are diverse, but generally they are about migration or organized crime.
"The Border has to do with many things, it has to do with human mobility, merchandise, weapons, money, Etc., from south to north and from north to south.
"So, my job is to fix, as a field producer. Help them [the journalists] to navigate, connect them with the right people, according to the topic being developed, and do translation work," he details.
Translating is not just translating language, but also realities. He clarifies that the contexts are different from other countries: "Help them translate the reality of (the region), when they come from countries that have different cultures, to make them understand street codes, to recognize when we go to dangerous places, to tell them what can be done, what can not be done, how to address people," he clarifies.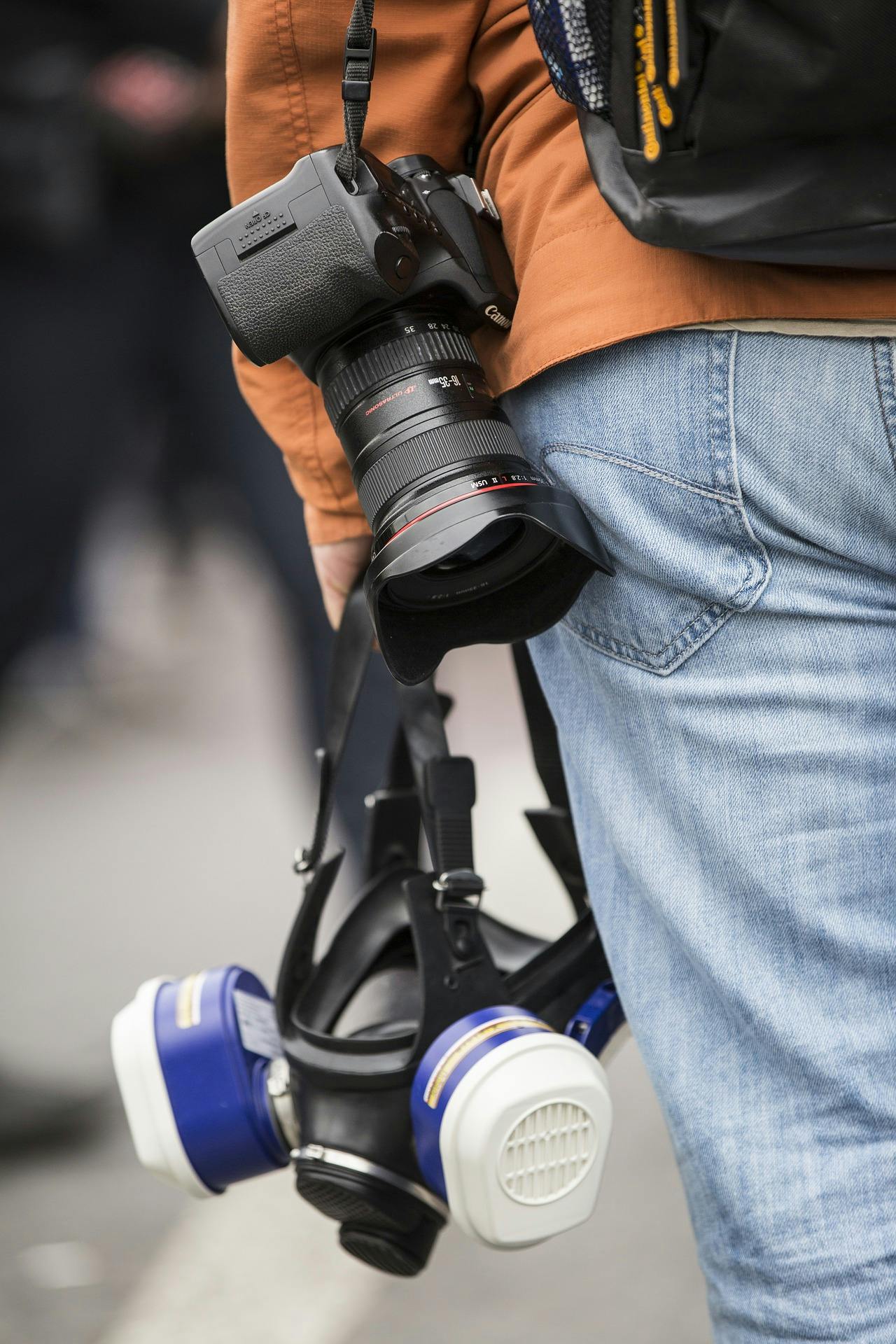 Dynamics of power
There is a dynamic of power between journalists from the North who go to the South and hire other journalists as fixers, says a study conducted by Harvard University, with funds from the Canadian Media Research Consortium and the Faculty of Arts at the University of British Columbia, in which 20 questions were asked online to more than 450 journalists and fixers from 71 countries.
"What we discovered is that the dynamics of a foreign journalist with a lot of money who hires a local journalist in an often poorer country, to make his orders, has an inherent power dynamics that can lead to problems."
The study revealed that more than 70 percent of journalists say they never or rarely placed a fixer in immediate danger, while 56 percent of fixers said they were always or often in danger.
60 percent of journalists said they never or rarely grant credit to fixers, while 86 percent of fixers said they would like to have credit, 48% of them said they always have credit and 38 times that sometimes they do.
Other survey results that stand out are that 38 percent of journalists say they never trust fixers for editorial guidance, while 45 percent of journalists say journalists always rely on them for editorial guidance.
A third of fixers identify themselves as "fixers of journalists," the report adds, while 75 percent of fixers say they have another profession, with a lower or moderate source of income.
"The vast majority (92 percent) of journalists say they find fixers through word of mouth, instead of online fixers forums, fixers lists or social networks."
A new wave of immigration also increased the number of fixers
Human migration, which has intensified in recent years, as well as border issues, have motivated the emergence of fixers in the region.
However, it is a serious job, and whoever is dedicated to it must have full knowledge of the area and adopt security measures, as Jorge Nieto has done for years, attending specialized workshops.
"We've seen things in Mexico are getting very complicated and there are more and more actors that can represent a danger for both journalists and fixers: organized crime, the state, people, now, with so much polarization, so many demonstrations. "
Likewise, the fixers have to ensure the safety of their clients, who often seek contact with members of organized crime, or simply, do not properly measure the risks when wanting to travel through places identified as red spots, believing that it is the same as a neighborhood of your first world country.
"They think it is very easy to access and sit down to talk with someone who traffics drugs, who traffics people, and that nothing will happen. You have to explain that there is a probability that something will happen and that certain preventative measures have to be taken, in order to ensure the crew physical integrity and also to make sure the story goes on the air, published, which in the end is what we are working on."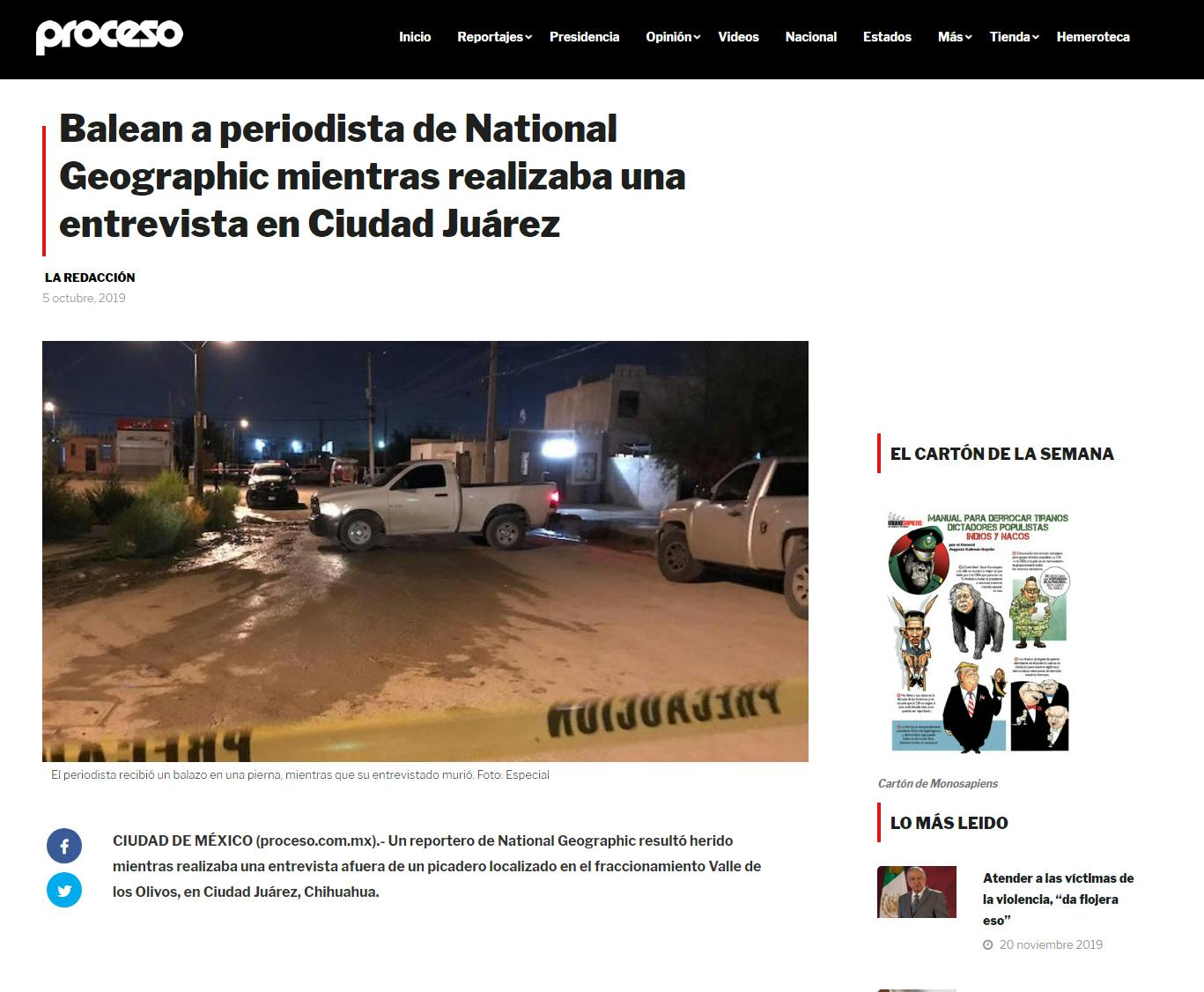 Learning of the National Geographic case
Other important rules for fixers are related to the protocol of not providing fixers services in areas that they do not know and always measuring the risks of the place where the production or reporting takes place.
In early October, a National Geographic team got trapped in the middle of an armed attack while conducting an interview with a source, a suspected drug dealer in the Valle de los Olivos subdivision in Ciudad Juarez, Chihuahua. According to police reports, a group of a rival gang broke into the house and executed the source and another suspected drug dealers, both members of "Los Aztecas" criminal gang who have previous records of drug trafficking and extortion. 
The team was composed by two American reporters, and two Mexican journalists, one of them, a journalist based in Culiacan, Sinaloa, working as a fixer. One of the two National Geographic reporters got injured with a gunshot in a leg.
A police officer told the media that he had previous contact with those journalists, however, they did not request protection while they were in the city.
The incident was strongly criticized by people from the community of fixers in the U.S. -- Mexico border.
A journalist from Ciudad Juarez who requested anonymity said that, realizing that violent events had previously occurred in that place, he was reinforced by the idea that it was irresponsible from the fixer to take the American team there.
"After that, here in Juarez we all know that police corporations are infiltrated by criminal gangs, that all information risk being leaked.
"When we realized what story this team was investigating, who put them in contact with them [the drug dealers], what both the authority and the criminal groups wanted to know, we honestly saw it was a very complicated situation, with a lot of responsibility involved," he said.
He regretted the consequences and said that this analysis of this incident involves a debate and a reflection on how far we journalists and fixers allow sources exposure to risks, since one of the responsibilities of journalists is to take care of the sources and that of a fixer is to take care of the producer team and sources interviewed.
"It was not his area and he did not know it," commented some Juarez fixers in a WhatsApp group when discussing the fact that the Sinaloa fixer was probably not familiarized to the Chihuahua risk environment.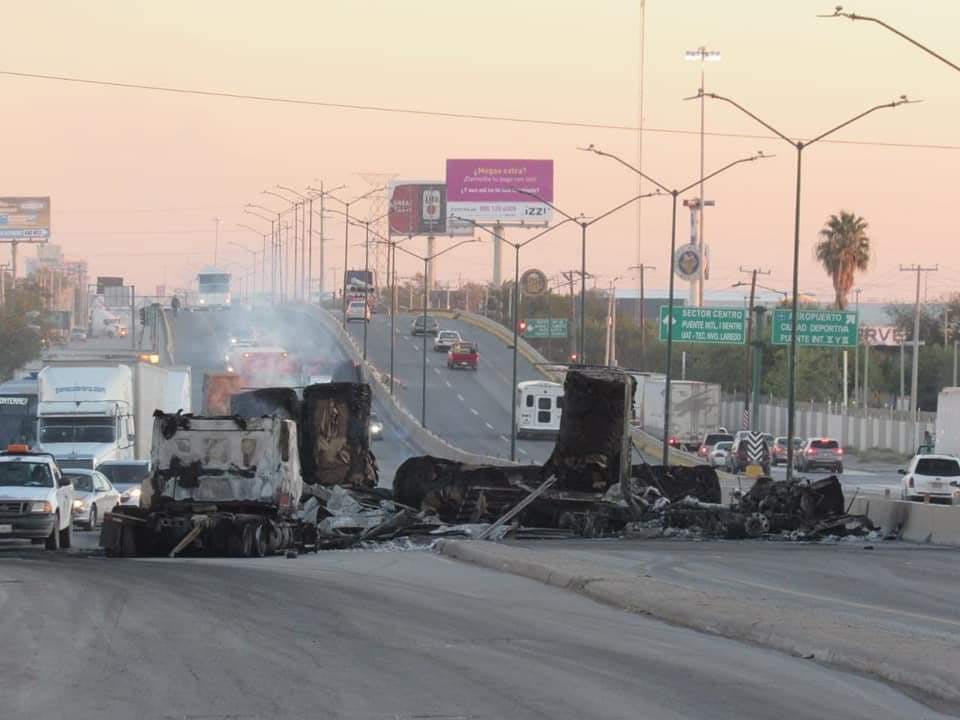 Gun battles and vehicles set on fire in Nuevo Laredo, Mexico. Image from Social Media.
The risks of being a fixer in Tamaulipas
For a producer or journalist, even national, working on the Tamaulipas border hiring a fixer is paramount, says a local fixer who ask to be mentioned just as Juanita, who has been working in the trade for four years.
"You have to hire someone who knows what he is doing, because, well, you see what happened to the National Geographic boy. 
"You can't take a risk. I have been asked for things like [guiding journalists to] safe houses. I say 'no, even if you pay me ten thousand, I wouldn't take you there, because you're leaving, I'm staying.'", says Juanita before adding that although a source would be a trusted one, local criminal gangs always find out who provided that information.
Juanita has provided services to reporters and producers from England, the United States, Africa, Canada, Germany and Norway, among others, whose most common interest is to document migration and organized crime and only a few on political issues.
She boasts of knowing how to say no when asked fixer services for a risky coverage. It happened recently to Juanita with London producers. They were upset because Juanita  refused to facilitate interviews with people and in places that would put the integrity of the team at risk.
"In that case, in order that they didn't leave without the job done, I had to move to Monterrey and it was there where we conducted the interviews. 
"What I do is focus on looking for this [type of ] of cases, but in Laredo and Monterrey," Juanita says. 
She knows the border well and also knows that she can't do a job for more than three days in one place. They must be quick jobs before being detected by crime.
"In one of the cities, a commander spoke to us and said 'don't mess with my work, and I don't mess with yours. We don't want to see them here anymore. ' In another city we had problems with state police elements. "
Juanita agrees that adopting security protocols is essential at all times, studying the area and the issue that will be addressed, as well as the story protagonists.
The danger can be in something as simple as interviewing a migrant person, she says, since there are those who pretend to be migrants, they even form in the line where shelters distribute food, but in fact they are members of criminal groups who are supervising who comes to talk to them.
She has witnessed how some colleagues charge very low fees as fixers, however, Juanita states that she has a very well established rate and does not underestimate her work. She does not "make sales" for her work, because she knows its importance and the risk it implies.
"It is not anything. You are risking too much. You risk a lot. We are here, we are identified by everyone [in the criminal groups]. (They know) what each one of us does. "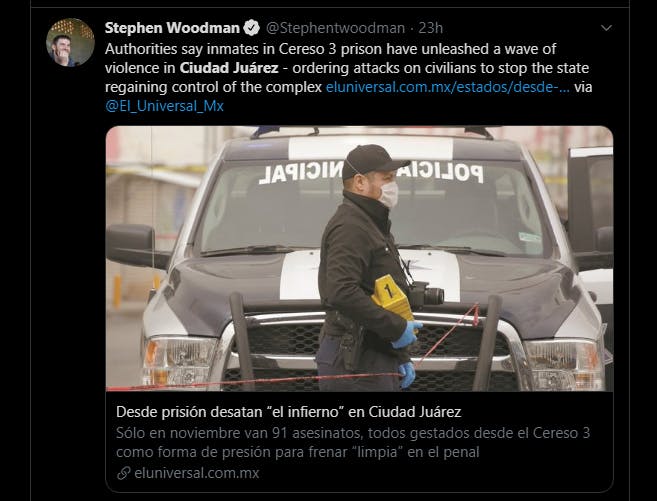 The challenge of being a fixer in Ciudad Juárez
One of the most unsafe incidents Alicia Fernandez has had as a fixer was when she and the reporters and editors of a U.S. media outlet were stopped by a crime cartel immediately after they crossed the border in Ciudad Juarez, Chihuahua.
"I already knew the border crossing very well, but there had been a change there,'' says Alicia. "The cartel had taken over the human smuggling business."
"We were on top of a hill, in the dividing line," says Alicia about the moment when they saw a group of armed people approaching them. "They arrived and asked us what we were doing there, 'in our territory.' They were armed," said Alicia, an experienced photographer who has also worked as a fixer for a decade.
After giving an explanation to the members of the criminal group, she obtained permission from them to take some shots of the place and leave.
Alicia has worked with very professional people, she said, however, she has also faced cases in which, despite having a fees agreement, her clients want to pay less.
In other cases, clients have requested to cover risky issues and areas no matter what risk or what expenses would be associated.
She recalled when an independent reporter wanted to force her to do the same interview twice, that is, to return to the person she had already interviewed, despite the risk it represented. 
"I told her: 'She is a person that you cannot interview twice. It is an opportunity and now, you will never see it again in your life. You were there, and if you asked your questions, fine, if not, I am sorry.' 
"He said: 'I want it tomorrow.' He wanted to pay me (more), and he threw money to me in a very rude way, " Alicia said.
Her clients come from all over the world and although they have a rate that varies depending on the work, the time and the contacts she must get, at the beginning she had no idea how much to charge. "I didn't even know that his job was that of a fixer."
"For me it was 'ah okay, do you want me to help you and you pay me?'
"That was when I began to understand that there is this work and that figure; but it was not something that I knew here. I did not know that these services existed, so I realized that this job existed and then those people recommended me and I already charged. "
Gabriela Minjares, an investigative journalist working for La Verdad Juarez, based in the same border city, formally started as a fixer two years ago. At that time, she also did not know how much to charge. In fact, she did not take that job as a way to make a living.
"Actually we have been for many years in Ciudad Juárez, a city that as you know, has had situations of violence, such as femicides and an unprecedented violence that broke out in the city. Somehow, I think we have been fixers without knowing it, without wanting it, because in reality what we were doing was supporting colleagues who came from outside," said Minjares.
She recalled that even at some point some journalists charged for work doing what at that time they called "the tour of femicides", to take other colleagues who came from other states and countries to report issues related to murders of women.
It was a couple of years ago that Minjares began to capitalize on her services as a fixer, after he left the media outlet where he worked as a reporter.
Asking other colleagues and knowing their clients, their requests and their economic capacity, she put a price on their work, even now, the work of fixer is part of the services offered by La Verdad, which is made up of her and colleagues from the Network of Journalists of Juárez.
With many years of experience as a journalist and having taken training in self-care and human rights, Minjares agrees with the other interviewees about putting security and journalistic ethics first, before the requests from the clients.
"I have been asked a lot to look for [interviews with] hitmen, to look for migrants smugglers, who are known in Juárez as polleros. They [the clients] ask me that and the truth is that I don't do it. They have asked me for interviews with drug dealers, and I haven't accepted them either, "said Minjares.
"They also seek interviews with children victims of violence and I have not accepted them, because after the experience of revictimization, I don't want to expose children in that circumstance. "
Organizational attempts
The disintegration in which the trade of fixer is operating has motivated the organization and training of those who practice it.
Hiring a fixer is a common practice in the country, says Andalusia Knoll, representative for Frontline Freelance Mexico, a producer who has worked as a fixer.
"I would bet that of the international media that come to Mexico with some budget, 90 percent of them use a fixer.
"It is because they themselves have no contacts to do what they need from the story they want, nor devote the necessary time because they are used to going from one country to another and also recognize the importance of working with someone local, who has better knowledge of the subject, better contacts, and also for security," she says.
One of the top problems that Andalusia Knoll sees about the work of fixers in Mexico is that they are not included in the credits of the productions, because their work is dismissed.
"They don't receive credit. They do receive a payment, which is sometimes the equivalent of a two-week period. That has a great advantage for journalists working in local media, but the problem is inequality in power and not respecting and naming the person for what he is. "
* This report is part of the Mexico Border Investigative Reporting Hub, a project of the International Center for Journalists in partnership with the Border Center for Journalists and Bloggers