The figure is nonsensical. The Mexican federal air pollution control enforcement program has only five inspectors to ensure compliance of  5,472 industries with environmental regulations in Monterrey, considered as the most polluted city in Latin America..
Yes, the number seems weird, but it is true: five inspectors to supervise that 5,472 companies do not send more pollutants into the atmosphere than they are allowed to. The epilogue could not be easier to imagine.
This is one of the most notable revelations of the investigation carried out by journalist Marco Córdoba and Juan Manuel Ramos, a transparency activist and director of Redes Quinto Poder, a civil society organization founded in Monterrey in May 2012.
The investigation, part of the Mexico Border Investigative Reporting Hub, a project of the International Center for Journalists in partnerships with  the Border Center for Journalists and Bloggers, is the result of an unusual, but successful alliance between an activist and a reporter.
Interactive image. Click the square at the center and move it left and right.
The story reveals a huge threat to the health of Monterrey metropolitan area residents, coming from excessive emissions of some of the companies that have contributed to the consolidation of Monterrey as the Mecca of Mexico's industrial activity. 
The journalistic piece provides evidence enough to suggest a collusion between private companies and the federal and state governments to explain the lack of pollution control enforcement  that has enabled those companies, for years, to release into the atmosphere excessive amounts of waste, harmful for humans, in a clear violation of national and international environmental standards.
The research path
Ramos says that the idea for this story began to take form four years ago, at the beginning of Jaime Rodríguez Calderón's state government, when an intense debate arose to detect the source of a pollution that had turned the metropolitan area of Monterrey into one of the most tainted regions of the Western Hemisphere.
At that time, Ramos says, there was an extensive trend, especially coming from government officials, to identify vehicles as the main source of pollution in the Monterrey metropolitan area. 
"It is true that in Nuevo León the vehicle fleet increased significantly, but it was striking to know that the industry, another very prominent pollutant, was not included in the debate," Ramos says.
At that time, Ramos and Córdoba raised some questions that were the starting point of their investigation: What role do companies, those that give life to the most important industrial zone of Mexico, play in the pollution problem? Who verifies toxical industrial emissions? How do they do it?
To answer those questions, Córdoba and Ramos drew up a plan that involved identifying the government agencies responsible for air pollution control enforcement, at the federal, state and local levels. After that identification, they used transparency laws to send public information requests.
Later, they seek neighborhoods close to polluting industries to interview people who, they believed, were among the victims of pollution.
They chose to speak with residents of Céntrika, one of the most important urban restoration projects in the recent history of Monterrey.
Inaugurated in 2007, the real estate project was built over a confinement of hazardous industrial waste, on the land that was once occupied by former mining American Smelting and Refining Company (Asarco).
Every single day, Céntrika residents have to breathe emissions produced by plants such as Cemex, Vitro, Crisa Libbey and the steel manufacturer Magotteaux, among many others.
Testimonies about respiratory tract disorders and other affections multiplied rapidly. Not so the statements of the companies mentioned in the story, none of which responded to the requests of the reporters to share their version of the situation.
The threat
According to Ramos, many people, aware of the risk of staying in Céntrika, decided to move to areas less affected by pollution. But not all neighbors may be able to do the same in the next future. Most of the inhabitants of the real estate project will have to stay there.
With the levels of pollution in the Monterrey metropolitan area, an exponential multiplication of serious health conditions, is only a matter of time.
And with the increase in the amount of ill people, Ramos says, the increase in the demand for medical care can only grow, putting an enormous burden over a state health system that has already not to much to offer.
The attempt to produce an impact
With the investigation finished, for Ramos and Córdoba there is no other matter that worried them that much, than the assurance that the story, once published, has a clear impact. In other words: that the reporting job could be followed by tangible changes aimed to solve the problem.
The alliances that Redes Quinto Poder have forged since its foundation seven years ago, can be a tool to achieve that goal. If those changes are  achieved, the journalism-activism coalition would prove its effectiveness.
But what would be, according to Ramos, examples of an effective impact?:
That the federal, state and local governments include in their 2020 budgets an important amount of economic resources to train and increase the number of those responsible for enforcing control of industrial emissions in the state of Nuevo León.
 
That people ponder air quality in order to decide a proper area to live, and if they live in a polluted area and their health is at risk, they must move as soon as possible.


That polluting industries publish their emissions inventories, so that everyone can know the type and amount of waste they generate, how they handle them and what damage those emissions  can cause to people's health.


That people in Monterrey avoid buying houses in areas surrounded by companies that generate a lot of pollution. To solve a housing problem, health should not be jeopardized.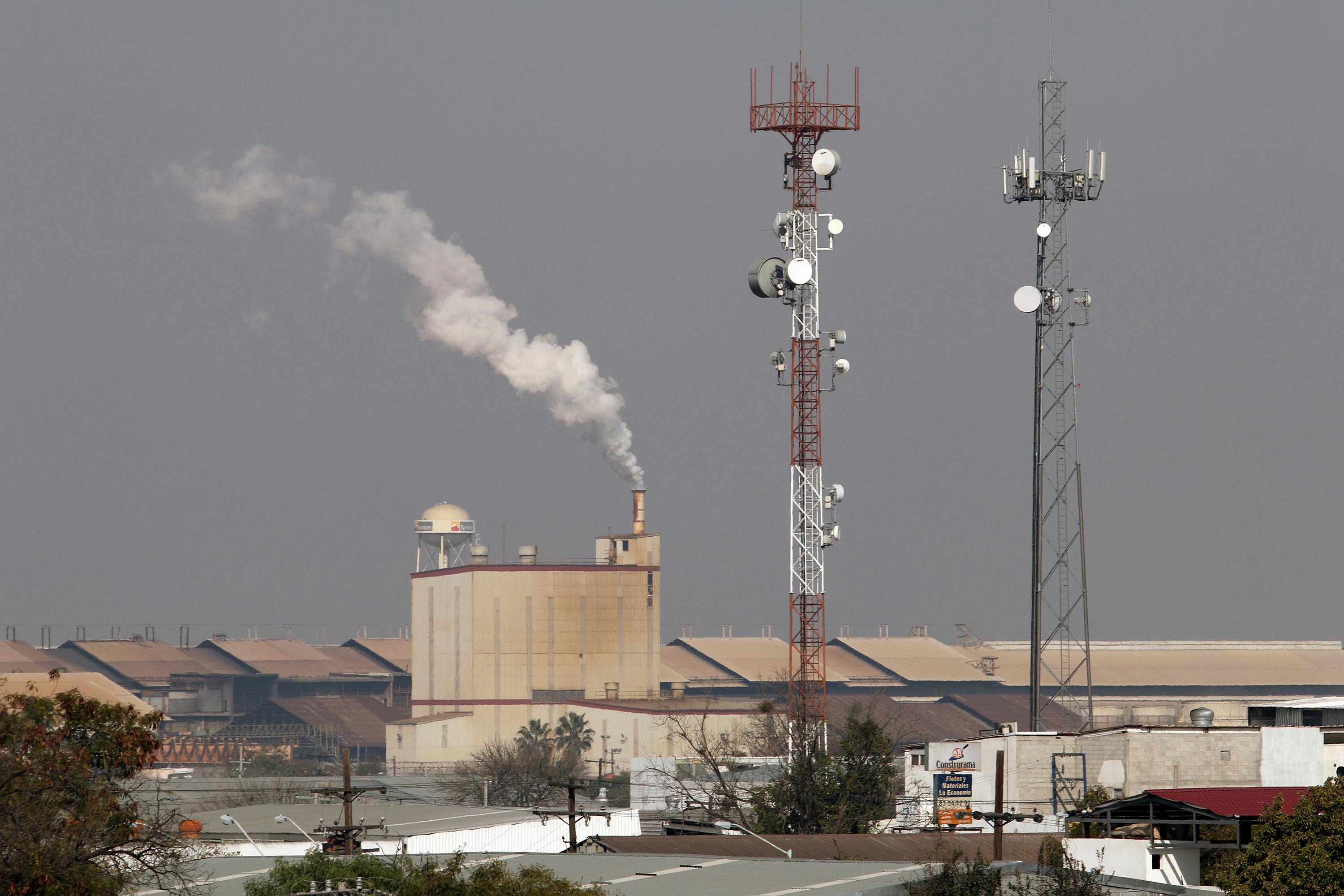 Q&A
What were the top obstacles you faced in making this story?
We found a very limited amount of sources willing to talk openly about the connection that, we presume, exists between industry and government.
Companies and governments have a symbiotic relationship that prevent compliance with  environmental regulations, therefore, there are a lot of companies operating, even though they are hurting public health so much.
On the other hand, the companies mentioned in the text decided not to talk to us. Having their version of events would have given more balance to our story, but they decided not to speak.
It is the first time I work with editors. It is something that can be stressful, but doing so increase the accuracy of the investigation, they are a guide.
For an activist like you, was it difficult to find the balance journalism demands?
Before this investigation, we never (in Redes Quinto Poder) tried to obtain the statement of people we were investigating. Now we understand that doing so is paramount.
For a story to be right you must include the version of all characters involved. If you have any bias you should keep it in the drawer. However painful it may be, we must seek impartiality. If there is something you cannot document or prove, you cannot say it. 
Besides that, working as a team gave me the possibility to learn. Listening to other opinions, knowing different views enriches any project, and that is something we always have to treasure especially when, as in this case, we are dealing with such a serious issue for a city, for a state, for millions of people.
Do you think the activism-journalism alliance works?
It seems to me that it is a natural and obliged step for people who want to produce an  impact. It's like closing a virtuous circle: journalism makes certain problems visible, activism takes these investigations and generates changes.
If a civil society organization wants to fight corruption, it should always integrate the two components. Thus, I think, it is easier to make certain local problems visible in the national sphere, which facilitates their solution.
What would you recommend to other colleagues who are now working on their projects?
To have a timetable and comply with it. If on the 25th of the month you have a meeting with your sources and a meeting with your team, you cannot fail.
It is also very important to always have a plan B. If you have a source from which you expect certain information, you should think about what you will do if that source decides not to speak with you at the last minute. You have to always have another option, because if you don't have it, your story falls.
Describiste lo que está sucediendo en Monterrey con la contaminación como una muerte lenta...
That's right, it is a slow poisoning, but we have time for Nuevo León to assume the business leadership that made it the industrial and economic center of the country and put a solution to this situation.
Being the most important industrial zone in the country fills us with pride, makes us happy, we cannot allow that industry that makes us proud to end up burying us all.
THE END
Read this article at the https://www.borderhub.org/noticias-especiales/